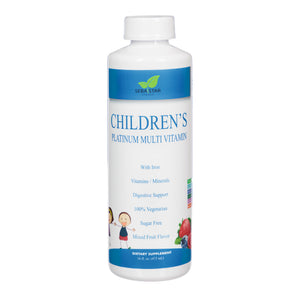 Seba Star
Children's Platinum Multivitamin
Regular price
$48.00
$0.00
Unit price
per
CHILDREN'S PLATINUM MULTIVITAMINS
Give your kids all the nutrition they need to grow, with our Children's Platinum Multivitamin. This multivitamin contains all the essential vitamins and minerals they need for healthy development and growth, as well as a necessary dose of iron, and fiber to support optimal digestive function. Because it comes in a tasty fruity flavored liquid with no artificial flavors or dyes, you'll have no trouble getting your children to take this multivitamin (even the picky eaters!) Rest assured it is completely sugar free, and the formula is also 100% organic and vegetarian. Make sure your kids are as healthy as they can possibly be, with our Children's Platinum Multivitamin.
100% vegetarian, whole food

Provides digestive support

Supercharges brain function and muscle and bone development 

Contains no starch, salt, wheat, gluten, yeast, milk, or soy

Non-GMO, gluten-free, sugar-free
Who it's for: Children ages 1-12
How to take it: Children ages 1-4 take 7.5ml, ages 4-12 take 15 ml. Shake well.
How to store it: Keep in the fridge
---